This type machine is used for 4kg -30 kg liquid filling . It can finish a series of operations automatically, such as bottle inlet, weight filling, and bottle outlet. Especially for SL, edible oil lubrication. it is a nice choice for foodstuff, pharmacy, cosmetic and chemical industries.
1. This machine adopts PLC, touch screen control panel, convenient to adjust.
2. Each filling head has the weigh and feedback system. Each filling head can be regulated.
3. Photoelectric sensor, approximate switch and other electric elements are the international famous brand. No container no filling. The main host can trigger the alarm if there is any container blocked.
4. Submerged filling makes it possible to reduce form. It is suitable for various kinds of filling products.
5. The whole machine meets GMP standard. It is easy to disassemble clean and maintain, and the parts which contact with the filling products are made of high quality stainless steel. The whole machine is safe, environmental, sanitary, adapts to various kinds of working places.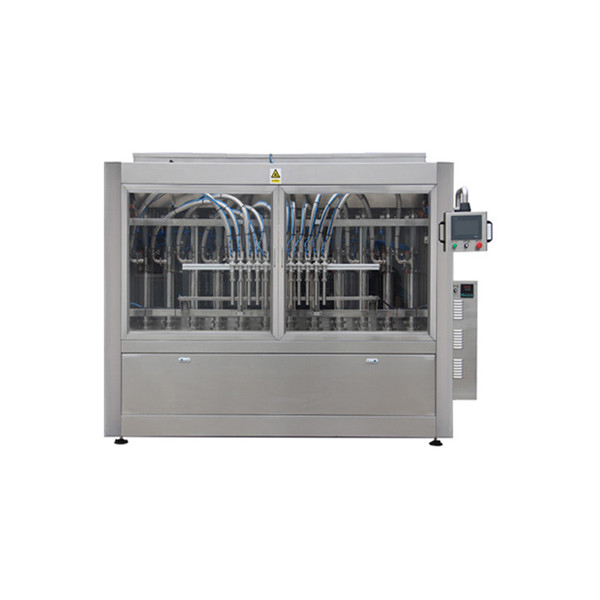 Tip
Suitable bottles
Capacitate
Dimensiunea mașinii
Putere
Alimentare electrică
Precise
2 Heads
length:160-3600mmwidth:100-300mm
height:250-500mm
neck diameter:≥Φ40mm
(can be customized)
30kg:200BPH
2000*1700*2300mm
2kW
AC220/380V

50/60Hz

≤ ± 0,5%
4 Heads
30kg:350BPH
2500*1700*2300mm
2kW
6 capete
30kg:520BPH
3500*1700*2300mm
2kW
8 Heads
30kg:600BPH
4500*1700*2300mm
2,5kW
NUMARUL 1
With pressure protection system, if the bottle is misaligned, the filling nozzle will rise after falling to a certain height
NR.2
High quality filling valve, high filling accuracy, quick action
Alegeri diferite de conducte:
În funcție de alegerea diferită a clientului, poate fi echipat cu diferite materiale de țeavă, pentru a satisface clientul
variety of different liquid safety filling.
The machine adopts linear bottle feeding, PLC program control, double cylinder bottle positioning, can clear up and drop the cap automatically. Single-head machine in the double action lifting cylinder to grasp the cover firstly, then screw cap. The screw cap adopts the air expansion type catch cap, and is equipped with clutch device, the screw cap will not damage the bottle cap, the machine is suitable for the screw cap of the barrel with large diameter.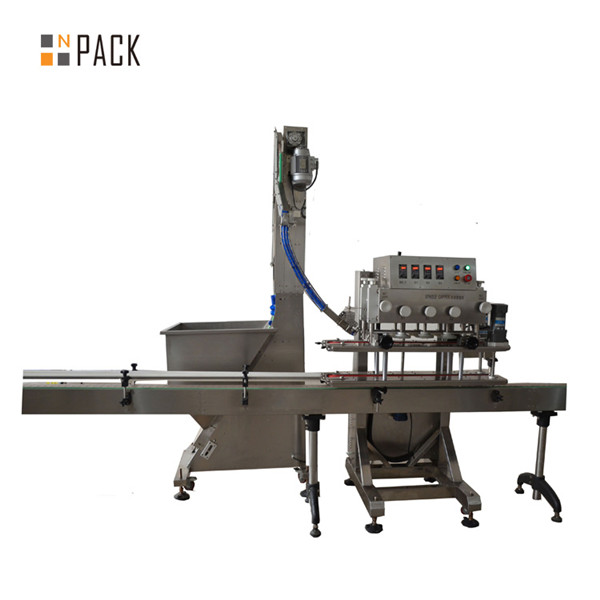 | | |
| --- | --- |
| Viteză | ≤1200BPH |
| dimension | 2000mm*1300mm*2100mm |
| Greutate | 750kg |
| Sursa de aer | 0.6-0.8Mpa |
| Putere | 2.5kw AC220/380v;50/60 HZ |
NUMARUL 1
Servo motor is used to control the torque of the rotary capping head, It won't damage the bottle and the caps.
The action of grasping the cap is completed by the air cylinder.
NR.2
According to the special requirements of customers, the cap lifting machine can be replaced with a cap unscrambler and conveyor belt. Much more easier to adjust when change the caps and bottles.
NO.3
Belt type conveyor for the caps,the speed and stability of cap conveyor are increased, and won't occurs caps missing
NO.4
On the belt conveyor, the no-aluminum foil cap remove device can be installed to remove the cover without aluminum foil.
Automatic Double-side Labeling Machine:
This machine id widely suitable for foodstuff, cosmetic, pharmaceutical, pesticide and other industries. It is single
and double side labeling for flat, square and round bottle which volume below 1L. Automatic controlled by computer
(PLC) easy operating.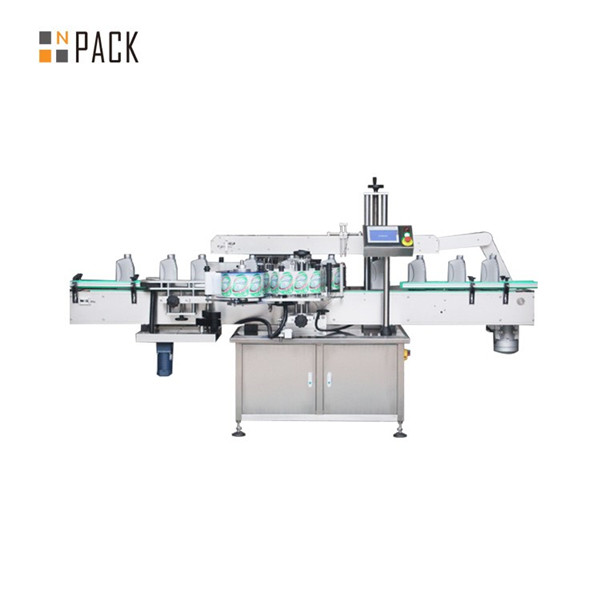 Machine introduction:
1. Adopt mature PLC control technology, make the machine stable and high-speed. Can be suitable or square /oval flat bottles at the same time.
2. Adopt touch screen control system, simple, practical and efficient operation.
NUMARUL 1
Adopt high quality wheel to leave some space between the bottles, so as to ensure that the labels will not be missed. The rotary speed of the sponge wheel can be adjusted to adjust space between the two bottles.
NR.2
The parts of the machine that store labels and collect label paper are designed to be adjustable to accommodate a wide variety of labels.
NO.3
Adopt photoelectric equipment imported from Germany, and high quality servo motor, the labeling accuracy is greatly improved.
Service:
1. Instalare, depanare
After equipment reached the workshop of cust
omer, place the equipment according to plane layout we offered. We will arrange seasoned technician for equipment installation, debug and test production at the same time make the equipment reach the rated producing capacity of the line. The buyer need to supply the round tickets and accommodation of our engineer, and the salary.
2. Instruire
Compania noastră oferă clienți instruire tehnologică. Conținutul instruirii este structura și întreținerea echipamentelor, controlul și funcționarea echipamentelor. Tehnicianul stagiar va ghida și va stabili conturul antrenamentului. După instruire, tehnicianul cumpărătorului ar putea stăpâni operația și întreținerea, ar putea regla procesul și trata diferite defecțiuni.
3. Garanție de calitate
We promise that our goods are all new and not used. They're made of suitable material, adopt new design. The quality, specification and function all meet the demand of contract.
4. După vânzări
După verificare, oferim 12 luni ca garanție de calitate, ofertă gratuită de piese purtătoare și oferim alte piese la cel mai mic preț. În garanția calității, tehnicianul cumpărătorilor ar trebui să opereze și să întrețină echipamentul în funcție de cererea vânzătorului, să depaneze unele defecțiuni. Dacă nu puteți rezolva problemele, vă vom îndruma prin telefon; dacă problemele încă nu se pot rezolva, vom aranja tehnicianul pentru rezolvarea problemelor din fabrică. Costul aranjamentului tehnicianului puteți vedea metoda de tratare a costurilor tehnicianului.
După garanția calității, oferim suport tehnologic și service post-vânzare. Oferiți piese de purtare și alte piese de schimb la un preț favorabil; după garantarea calității, tehnicianul cumpărătorilor ar trebui să opereze și să întrețină echipamentul în funcție de cererea vânzătorului, să depaneze unele defecțiuni. Dacă nu puteți rezolva problemele, vă vom îndruma prin telefon; în cazul în care problemele încă nu se pot rezolva, vom aranja tehnicianul din fabrica dvs. pentru rezolvarea problemelor.
Mașină de umplere cu ulei de motor